Download the eBook
Enhancing IoT Solutions with Wireless Connectivity
---
The Guide for Solution Providers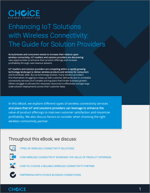 As technology evolves, solution providers need to keep up with customer demands for connectivity services and complex pricing plans that can help Launch, Manage and Monetize their solutions.
Working with an IoT connectivity partner can help solution providers easily enhance the value of product & solution offerings, improve customer satisfaction, and maximize profitability.
This eBook will discuss:
Types of wireless connectivity solutions
How wireless connectivity increases the value of product & solution offerings
How to choose a reliable wireless connectivity partner
Complete the form to get the eBook and learn how to choose the right IoT connectivity partner to enhance your business profitability.